TV service that meets your needs
No matter how you watch or what you watch, we have channels for you.
The best in TV entertainment
With almost 300 channels of entertainment, including over 60 HD channels, you will always find something to enjoy. Horror fans will love Chiller, kids will enjoy watching Disney Jr and Boomerang, outdoor enthusiasts will love Sportsman Channel and you can watch live NFL action from the gridiron every Sunday on NFL RedZone.
Record up to three shows at a time.
Interactive on-screen guide
Commercial-free music
WatchTVEverywhere
Spanish language channels
On demand and pay-per-view
Plus premiums channels like HBO, Showtime and Starz available
WatchTVEverywhere
With WatchTVEverywhere (WTVE), you can watch your favorite shows on almost any device. You can watch content out on your patio on your tablet or smartphone. You can watch one show on your big screen while someone else is in the same room watching another show on their laptop. Premium channels and cable favorites can all be viewed using WTVE.
WTVE is available on your smartphone, laptop, tablet, or computer.
Video on demand movies and TV shows
Watch the latest movies, shows, and live events. Plus watch thousands of FREE shows and movies available in theaters, right from home.
Thousands of movies including box office hits, kids programming, new releases, sporting events, and concerts
Plus tons of free programming at your fingertips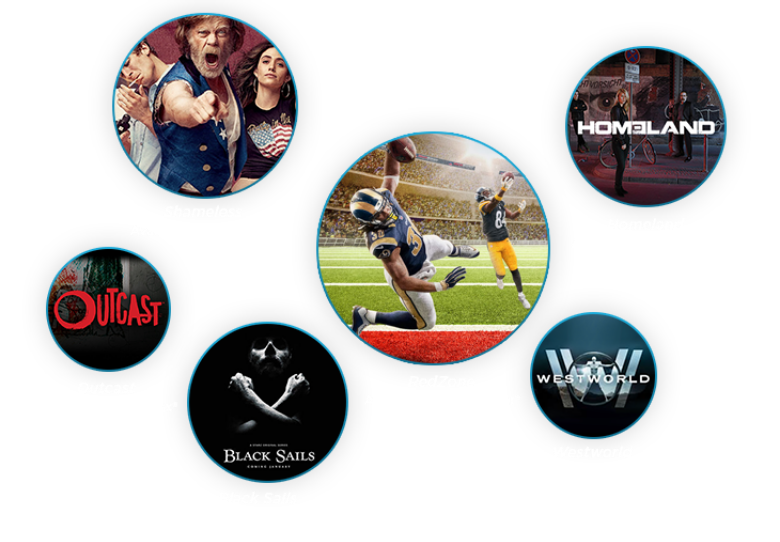 Channel lineup
Channels can vary by location.
Keep calm and stream on