Cut the Cord
Whether you want a little TV or a lot, traditional channels or your favorite original programs from Netflix or Hulu, cutting the cord is easy!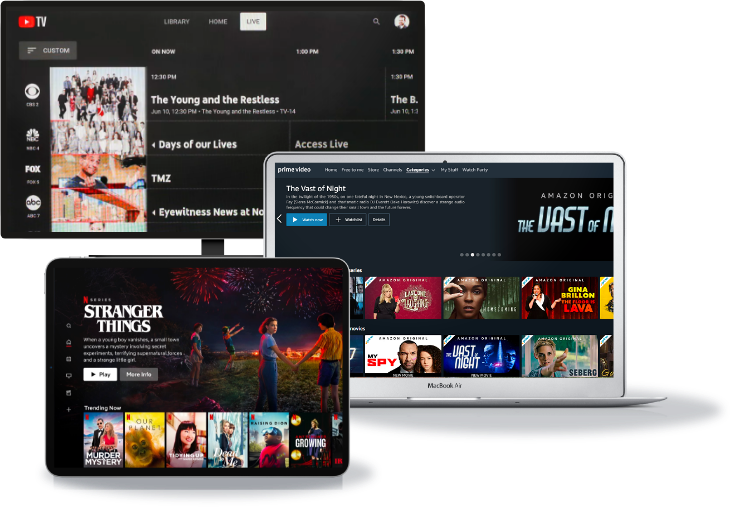 Understanding Streaming TV
Streaming TV looks, feels and acts very much like traditional TV service.
You can get your local sports, news and weather, popular cable favorites like CNN, ESPN, FX, and Disney as well as access to the hottest original shows and movies on Netflix or Amazon Prime.
Streaming TV is an online subscription service.
You can sign up directly with whichever streaming service you choose and then that service will be delivered to your home over your Blue Stream Fiber Internet.
Streaming TV services provide the flexibility to pick the channels and programing you want.
And you can save big time! Pick from free TV to subscription services as low as $20.00/month. If live TV and sports are important to you, there are multiple budget-friendly options to choose from.
Two types of Streaming TV
Live Streaming TV
Watch live TV from broadcast TV channels like NBC, CBS and FOX and enjoy cable favorites like CNN, Disney, HGTV, AMC and more in real time. Get access to live sporting events on both broadcast TV and channels like ESPN, TNT, Red Zone, Golf channel and more.
On-demand Streaming TV
While it doesn't provide live TV options, it does provide access to popular original TV shows and movies exclusively available from that provider. Often includes access to a vast library of previously aired TV shows and a wide library of popular movies.
Streaming devices
After you know which service you want, you need the device to be able to stream. You can use a Smart TV or DVD player or purchase a streaming device that will enable your streaming services right on your TV.
Popular Streaming TV options include Amazon Fire TV stick, Roku, and Chromecast
Easy as 1, 2, 3
Moving from traditional cable to Streaming TV doesn't have to be hard. In fact, most of the work is done in just three easy steps.
1. Sign up
Sign up for Blue Stream Fiber's blazing fast internet. Make sure you have the right speed to power your viewing.
2. Select Streaming TV service
Decide which streaming service is right for your viewing preferences by checking availability.
3. Select a streaming device
Pick up or order a device that allows you to access your streaming service.
Now start streaming and catch up on all those shows everyone is talking about.
Keep calm and stream on