Enjoy the ultimate TV experience.
Easy-to-use, award winning, and all your favorite shows in one place.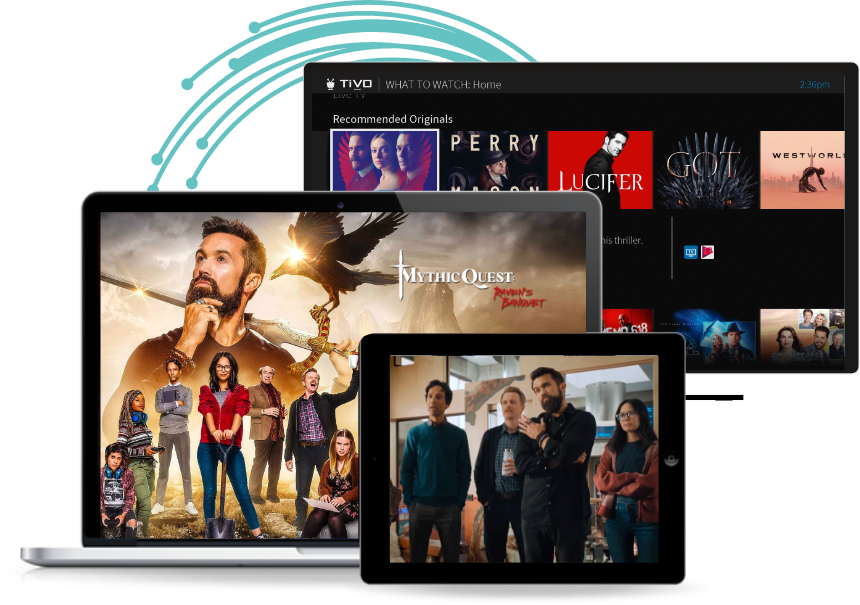 The best TV experience ever
Blue Stream Fiber TV makes it easier than ever to find, watch, and enjoy your favorite entertainment across live and recorded TV, video on demand, streaming, and thousands of integrated apps, giving you the most value from your pay TV subscription. It's the experience you know and love plus amazing features like Google Assistant, Chromecast built-in™ and access to 5,000+ apps and games on Google Play.

The Blue Stream TV experience and availability varies by area.
Get more with your TV
Get the best of traditional TV, streaming apps, and a powerful voice remote
Fully integrated streaming apps

Popular apps like Max (previously known as HBO Max), Netflix, and Hulu are available right from your home screen.
Easy-to-use guide and remote

Stop searching and start watching. With an intuitive interactive guide and a voice remote powered by Google Assistant, you'll always know what's available to watch and when. Search upcoming TV shows and movies, streaming videos and video on demand all at the same time.
Network DVR

Record shows and movies to watch later. Recordings are stored in the cloud to watch anytime, anywhere.
Google Play Store access

With the Google Play Store built into the set-top box, you'll have access to 5,000+ apps and games, including favorites like Max (previously known as HBO Max), Peacock, and YouTube.
Smart content predictions and recommendations

TV service that gets to know you and what you like. Your go-to shows and helpful recommendations will be curated right on your home screen for easy access.
PLUS Google Assistant

Use Google Assistant on your voice remote to search for your favorite movie or pause live TV. Ask Google what the weather will be tomorrow or even use your voice to control Google Smart Home devices like a Nest thermostat.
Ultra-slim 4K set-top box
A set-top box that works with all your devices, even when hidden behind the TV. Our TV service also works on devices like Fire Stick, tablets and phones!
Channel options
With our TV services and ability to customize your TV experience with premium channels, you never miss out on the shows everyone is talking about and can add the sports and international content you want most.




Blue Stream Fiber TV app
The Blue Stream Fiber TV app brings the ultimate TV experience to your mobile devices. Watch live TV, video on demand, or recordings on your Android device anywhere in your home. Discover new shows and set up recordings. Download your favorite shows and take them with you. The Blue Stream Fiber TV app is now available on the Android Play Store and Amazon Fire TV app store.
Available with select TV packages.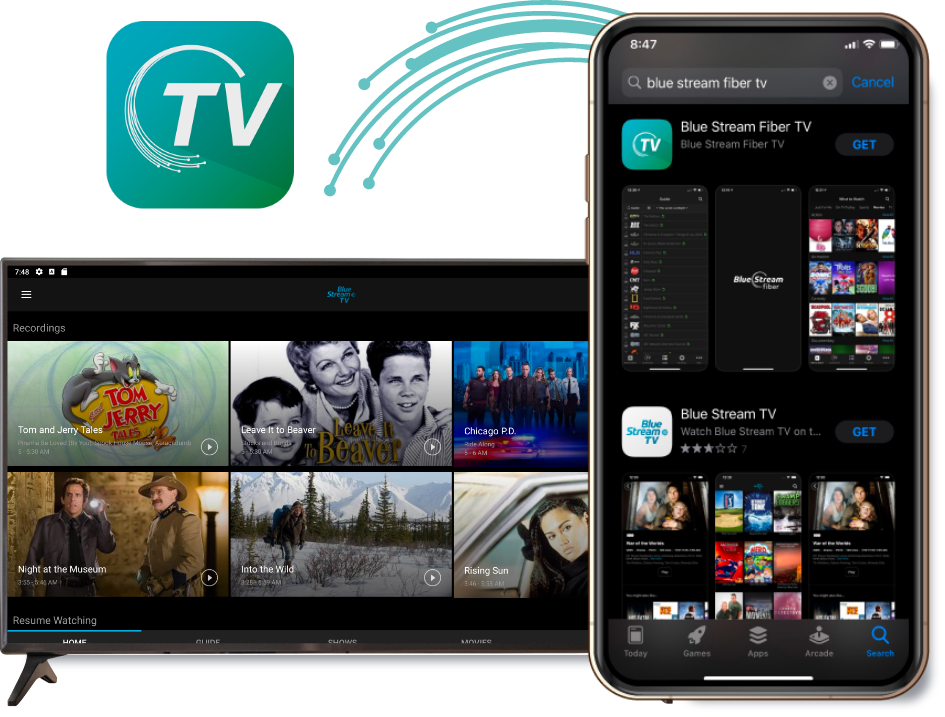 24/7/365 Support
Blue Stream Fiber service is backed by our 24/7/365 technical support.
For quick product support, see Television Support
Keep calm and stream on